Nine Dragon Heads in DMZ 2006
Theme : Change Concept
Period : 13rd ~ 24th. April
Venue : NNSC- Swiss & Sweden Delegation
Mt. Geumgangsan (North Korea)
Cheongju Art Center
Cheongju Park & Street
1. Outdoor Symposium
NNSC ( DMZ &JSA )
Set-up : 13rd ~ 16th . April
Open : 16th . April. ~ NNSC ( DMZ &JSA )
Mt. Geumgangsan
Set-up : 17th ~ 18th . April ( Works are Choose Freely )
2. Performance
Performance are will be divided 2-Phases as below
1st Phase : 16th. April. ~ NNSC ( DMZ &JSA )
2ndPhase: 20th~21st April. ~ Cheongju Central PARK & Street
3. Seminar - Lecture & Artist Talk
Venue : During on Symposium at the various places
Date/Time : 13rd. April ~
-Symposium will be open to anybody who wishes to introduce their practice
by Web-site, Video & Slide, Books, Catalogue with free talk.
Available Equipment
Internet, Video Beam-Projector, Slide projector…etc.
4. Neo-Nomadic Party
Neo-Nomadic Party is one of the concept of Nine Dragon Heads.
Each Artist brings Wine, Liqueur, Cheese etc. that is a speciality from their country and
we will have party at North Korea & NNSC
Black Market of Mozart's Birthday Party - Perfomance by Alois Schild
Cheer up Guarder- Perfomance by Sweet Jessy
5. Culture Survey
Culture Survey will be held 21th ~ 23th
Survey for participating artists from other countries who will gain
understanding of Korean identity from Cultural Aesthetics.
The survey will visit the Gyeongju, Tongdosa-Temple, Insadong, Old market,….etc.
6. Concert – Happy Birth Day " W.A. Mozart "
Concert will be held 19th/20th April. ~ at Cheongju Art Center / Daejeon
the cultural world 2006 will celebrate the 250th birthday of the Austrian composer
W.A. Mozart. that it would be a great opportunity and a considerable culture cooperation between a professional Korean orchestra and an Austrian conductor Mr.Gerhard Lessky to perform a concert with famous masterworks of Mozart.
7. Catalogue
Catalogue will be printed after symposium.
Colour and Black & White, each artist put into 4 pages
Design and layout will be formated during the symposium by Nine Dragon Heads.
So Artist must be bring own format until 24th. April.
8. Accommodation
Artists stay at Hotel in Goyang City ( near DMZ )
Breakfast : Hotel ( Simple Coffe & Tea).
Lunch&Dinner : Restaurant ( Korean Food )
9. Pick-up to Arrival & Departure
Arrival on 12th ~13th. April. Will be picked up by 9 Dragon Artists at Airport
Departure are individual
Further information can be obtained by Tel. & @mail
Mobile : +82 (0)10 3934 8888 @mail : 9dragonheads@korea.com
Where I get a Symposium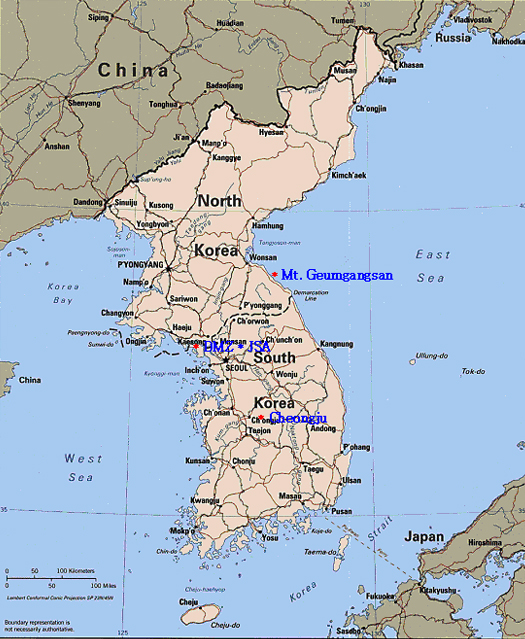 Information about Mt. Geumgang
Airport ( Seoul) to Goyang : 30 min by BUS
Goyang to DMZ : 30 min by BUS
SEOUL to Cheongju 2:30 Hours by BUS
General Schedule
Date

Activities

April. 12th~13th

Arrival ( Room Arrangement )

13th

18:00~ Welcome Reception ( 9 dragons )

14th

09:30~ Enter the DMZ & JSA ( Convoy by NNSC Military Jeep )

~ Welcome Reception ( NNSC Camp )

10:30~ Orientation

11:00~ Survey to NNSC by Jeep

~ Lunnch with NNSC Military-Swiss & Sweden Delegation

~ Survey to Panmunjom, Pavilion..etc

17:00~ Out of DMZ & JSA

15th

~ ~Survey to Unite Park and Bridge of No Return..etc

14:00~ Hunting Materials & Purchasing

18:00~ Back to Hotel / Dinner with free Discussion

16th

~Set-up Exhibition ( NNSC )

14:00~ Opening Reception

~ Intruduce art works / Performance

~ Closing

17th

~ Check Out

~ Suvery to DMZ 155 Miles ( from West to East Borderline )

19:00~ Arrival at Gosung ( East Sea - Room arrangement )

18th

~ Visit to North Korea ( Mt. Geumgangsan )

~ Back to South Korea

~ Arrival at Cheongju ( Room Arrangement )

19th

~ Welcome / Lunch ( Myung-Sook Studio )

~250th Celebrate Mozart Concert ( Cheongju Art Center )

20th

~ Performance ( Central Park & Street )

~ 250th Celebrate Mozart Concert ( Daejeon Convention Center )

21st

~ Check Out

~ Performance ( Cheongju Park & Street )

22nd ~23rd

Culture Survey ( Gyeongju, Busan - Temple, Royal Tomb…)

23rd

~ Arrival at Seoul ( Room Arrangement )

24th

~ Farewell Party