Details of Nine Dragon Heads 2007
| | |
| --- | --- |
| Theme : | Come ashore |
| Period : | 6th ~ 16th. JUNE |
| Venue : | Cheongju Art Center |
| | Sunyoudo Island. GeoJedo Island. |
1. Outdoor Symposium : Come ashore
1st Phase
6th ~ 11st

Sunyoudo island ( Yellow Sea )
2nd Phase
13rd ~ 15th

Geojedo island ( South Sea )

Participation

Symposium for all artists who participating in Nine Dragon Heads 2007

Art Works

Nature Art and Environment Art are most suitable for this event.

-Artists responsible for their own installation, and can choose the working area freely.

Materials

-Natural Materials must be used, for example Soil, Wood, Branches, Stones, Grass, .etc.

If you feel you need chemical materials for your concept please discuss whether this will be acceptable

before you begin your work

Tools

Please bring your own tools, simple hardware can be purchased easily and cheaply.

Circumstance of Sunyoudo Island http://www.sunyudo.com

Circumstance of Geojedo Island http://www.geojerotour.com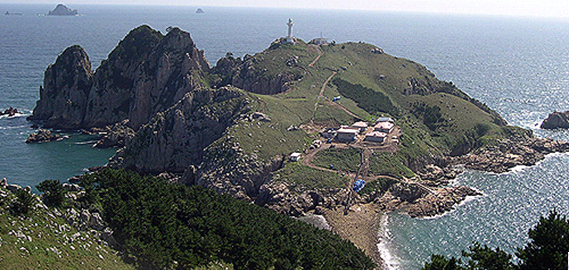 2. Indoor-Exhibition
1st Phase
12nd ~14th

Cheongju Art Center
2nd Phase
15th ~ 24th

Geoje Art Center

Exhibition

12nd ~14th

Open

12th, ~

Closing

14th, ~

Participation

Theme Exhibition

for all artists who participating in Nine Dragon Heads 2007

Quartair Exhibition ( Curator by Jessy Rahman )

Art Works

Visual Art ( Installation, Performance, Video Art, … )

Artists responsible for bringing suitable work and setting up their own work

also you can make an art work or installation directly in exhibition hall during period.

If you would like to work that way, please send your concept by @mail beforehand.

Cheongju

Art Center

Exhibition hall is 2 different hall :

Hall A :

8m high x 450m2

/

Hall B : 3 high x 450m2

Geoje

Art Center

Exhibition hall is ;

3.5m high

x 600m2

3. Performance Art
Performance are will be divided as below
| | |
| --- | --- |
| 1st Phase ( indoor ) | 12nd ~ Cheongju Art Center |
| 2nd Phase ( outdoor ) | 15th ~ Geoje Art Center |
| Participation | Artists who were invited for Performance and who wish to participate |
| Available Equipment | Audio & Sound, Beam-Projector, Light ( indoor only ) |
4. Conference
1st Phase
12nd ~ Cheongju Art Center
2nd Phase
15th ~ Geoje Art Center

Special talks ; Nine Dragon Heads – by Park, Byoung-Uk

Come ashore – by John Lyall

Quartair - by Jessy Rahman

and conference

open to anybody who wishes to introduce their works

Available Equipment

Slide, Video Beam-Projector….internet ..etc.
5. Neo-Nomadic Party & Culture Survey
Neo-Nomadic Party is one of the concept of Nine Dragon Heads.
Each Artist brings Wine or Liqueur, Cheese, Sweet etc.
that is a speciality from their country and we will have party during on Nine Dragon Heads
Culture Survey
will be held 16th ~17th
Survey for participating Artists from other countries who will gain
understanding of Korean identity from Cultural Aesthetics.
The survey will visit the Temple, Museum, Insadong, Old market….etc.
Accommodation
<![if !supportLists]>² <![endif]>Breakfast : Restaurant ( Simple Western Style )
<![if !supportLists]>² <![endif]>Lunch & Dinner : Restaurant ( Korean Style / Western Style )
* Pick-up to Arrival & Departure
Artist must be arrival on 6th. JUNE / Will be picked up by 9 Dragon Artists at Airport ( Arrangement BUS to Daejeon )
Departure are individual
Where I get a Symposium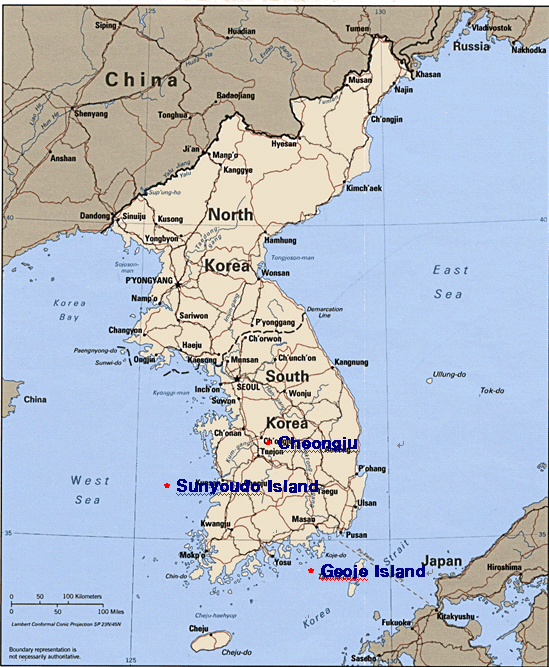 How to get the Nine Dragon Heads
Please go to Bus Terminal No 9C or 9D in Incheon Airport
* You have to buy a ticket to Daejeon

* Cost are approximately 15 Euro ( 20 US $ )
* Destination ; Airport to Daejeon 2Hour 30min
* You have to get off at Government Complex Terminal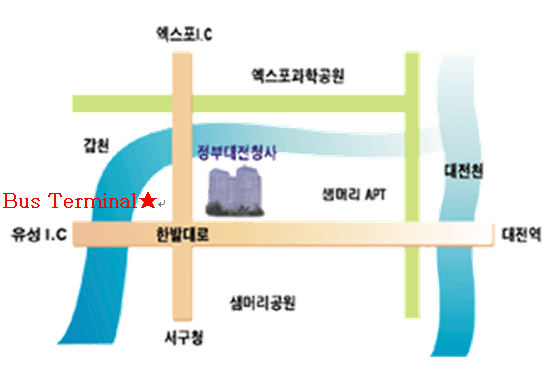 Please print below Map
Further information can be obtained by Tel. & @mail
Tel : +82 10 3934 8888 @mail 9dragonheads@korea.com