festival sarajevo
sarajevo winter
INTERNATIONAL FESTIVAL SARAJEVO "SARAJEVO WINTER "
The International Festival Sarajevo "Sarajevo Winter" is a traditional meeting place for artists and citizens from all over the World.
The first "Sarajevo Winter" Festival was held from 21 December 1984 to 6 April 1985. In the course of twenty three years of its existence, the Festival has become an inseparable part of the city life. In the 1069 Festival days Sarajevo saw 2. 908 performances and exhibitions with over 2.883.500 spectators and 25.290 participating artists from all parts of the world. The "Sarajevo Winter" Festival was not prevented from taking place even in the times of war, and has become a symbol of freedom of creativity and a place for familiarizing with diverse cultures and civilizations.
Together with the International Peace Center "Sarajevo Winter" initiated and organized the project "Sarajevo, Cultural Center of Europe" from 21 December 1993 to 21 March 1994 (i.e. the period between the two Cultural Centers of Europe - Antwerp '93 and Lisbon '94). The idea was supported by the Sarajevo City Assembly and by 11,000 renowned personalities and institutions the world over. The International Peace Center and the International Festival Sarajevo "Sarajevo Winter" plan to renew the same initiative. Twenty years of the Festival Sarajevo "Sarajevo Winter" was dedicated to project Sarajevo, Intercultural City of Council of Europe. The International Peace Center and the "Sarajevo winter" festival are preparing the project "Sarajevo - The World Cultural Center 2014".
The organizer of the "Sarajevo Winter" Festival is the International Peace Center Sarajevo. International Peace Center is member of the International Societies for Performing Arts (ISPA), European Festival Association (EFA), Association of the Biennial of Young Artist of Europe and Mediterranean ( BJCEM).
The International Festival Sarajevo "Sarajevo Winter" was awarded with numerous international awards and acknowledgments, as well as the highest prize award of the City of Sarajevo "Šestoaprilska nagrada Sarajeva".
The "Sarajevo Winter" Festival has traditionally been held under the auspices of the Secretary General of the Council of Europe, European Union, UNESCO, The Presidency of B&H, The Federation of B&H, The Council of Ministers of B&H, Sarajevo Canton, City of Sarajevo and Stari grad Municipality.
THEME
XXIV International Festival Sarajevo
"Sarajevo Winter 2008"

The theme "Barricades Without Borders- New (Brave) World opens up the question of dialogue between different generations which participated, each in their own way, in creating a new world while destroying the barricades between their dreams, their goals and the world which surrounds them and in which they live. Every generation is confronted with the same experience: that in front and behind them stand barricades without borders. The creation of a new world means life in a "brave world." Through the art of life, at the Festival we will explore the relationship between the generation of the second half of the twentieth century from the time of the student unrest in 1968 up to today. Through urban communication of artists, the general public, and historians with their contemporary problems/interests we will seek the key point of their encounter. The festival will be held within the framework of the year of European inter-cultural dialogue and in a special way will be linked to the encounters of Euro-Mediterranean creators. In accordance with tradition, the festival in its first week will mark the twenty-fourth anniversary of the fourteenth Winter Olympic Games, held in Sarajevo
Ibrahim Spahić
Director of International Festival Sarajevo
"Sarajevo Winter"

INTERNATIONAL FESTIVAL SARAJEVO –"SARAJEVO WINTER" (since 1984) – Titova 9a or Gabelina 16, 71000 Sarajevo, BIH; Tel / fax: ++ 387 33 207 945, 207 948; PBS DD SARAJEVO Acc.1011010000126136; e-mail: ibrosa­@bih.net.ba; website www.sarajevskazima.ba, SARAJEVO CONCERT HALL website www.sarajevoconcerthall.com BIENNIAL OF YOUNG ARTISTS website www.bjcem.org
OPENING CEREMONY::THEATRE ::CONCERTS::MOVIES::FINE ARTS EXHIBITIONS::HERITAGE::PANEL DISCUSIONS:: LITERARY EVENTS::ARCHITECTURE::VIDEO ::PROGRAMS OF THE NATIONAL CULTURAL SOCIETES::CHILDREN'S PROGRAMS::POETICS OF SPACE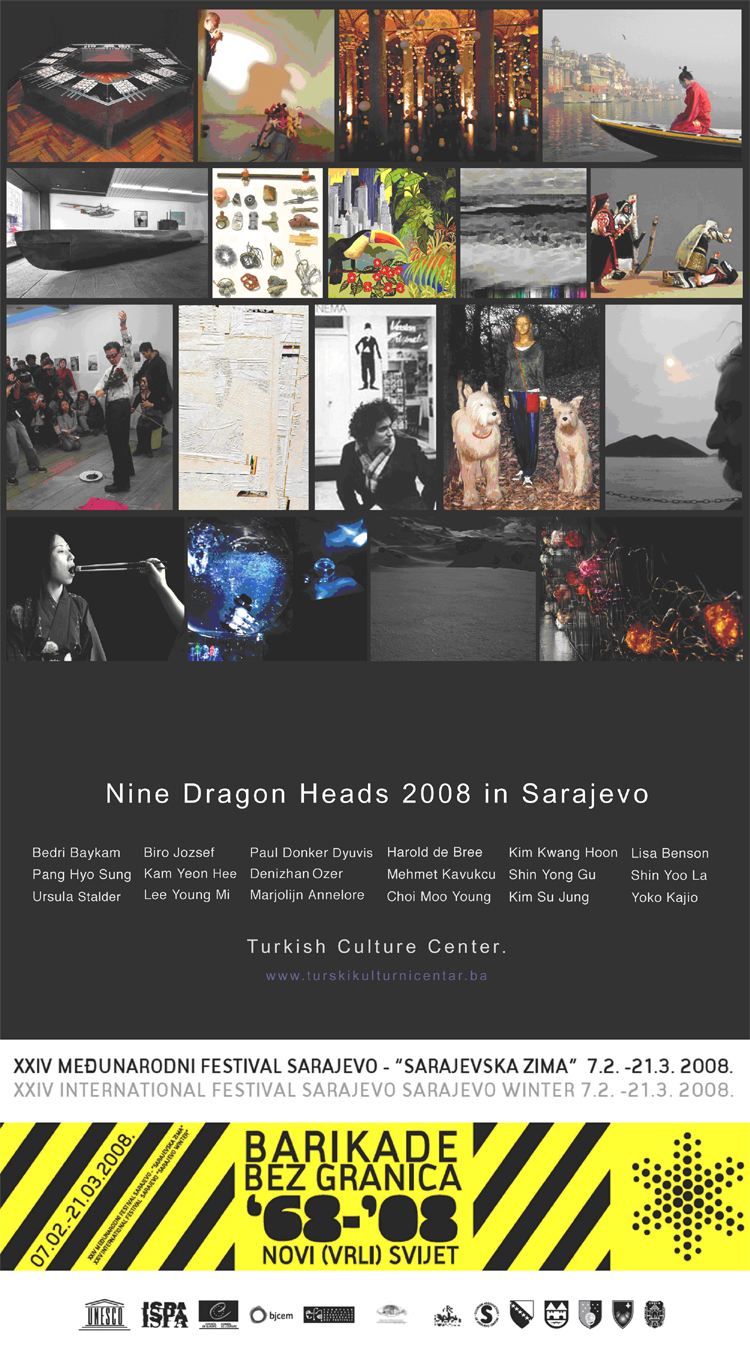 1.Contemporary Art Exhibition
Period: 7th~ 11th, FEB. 2008 ( ~ Opening )
Venue : Indoor - Sarajevo Turkish Culture Center www.turskikulturnicentar.ba
Outdoor – Sarajevo Open City
Artist List
Bedri Baykam, Biro Joszef, Paul Donker Dyuvis, Harold de Bree, Kam Kwang Hoon, Lisa Benson
Pang Hyo Sung, Kam Yeon Hee, Denizhan Ozer, Mehmet Kavukcu, Shin Yong Gu, Ursula Stalder
Lee Young Mi, Marjolijn Annelore, Choi Moo Young, Yoko Kajio, Kim Su Jung
Participation
Exhibition for artist who invited Nine Dragon Heads 2008 in Sarajevo
from Korea, Japan, New Zealand, Swiss, Holland, Hungary, Turkey. Poland...
Art Works
Indoor : Visual Art (installation,Objects,Video,Drawing etc) are most suitable this event.
Outdoor : Artists responsible for their own installation.
and can choose the working area freely
Materials & Tools
-If you feel you need special materials for your concept, Please discuss whether this wil
be acceptable before you begin set up your work
-Please bring your own materials & tools
simple hardwere can be purchased easily and cheaply
Available Equipment
CD & DVD Player, Video Beamer, inter-net
2.Neo Nomadic Party
Period:
8th, FEB. ~
Venue :
Restaurant
' Deberi '
Neo-Nomadic Party is one of the concept of Nine Dragon Heads
Each Artist brings Wine or Liqueur, Cheese, Sweet etc. (
speciality music instrument
)
that is a speciality from their country and we will have party during on exhibition
And Artist must be wear
national dress
at the opening
3.Accommodation
Breakfast
& Dinner : Hotel
/
Lunch
: Restaurant
4.Pick-up to Arrival & Departure
-Artist must be arrival until on 3th~~ 4th FEB
-Will be picked up at Airport

/ Departure are individual
5.Catalog
-Document Catalog will be printing after exhibition
-Artist must be send work images and text ( until 30th. March. 2008 )
-Individual priting will be good ( Leaflet, Post card, Catalog, ..etc )
in case, artist have to put LOGO ( Symbol of Sarajevo winter ) into printing.
And also put into word as Organized by Nine Dragon Heads
Details Schedules
~3rd FEB :

Arrival at Sarajevo ( room arrangement )
4th, 5th, 6th :

~ Set Up
7th : ~ Open
8th : ~ Neo Nomadic Party
11th~

Closing
12th ~

Individual Departure