The XXVI International Festival Sarajevo
Sarajevskazima 2010
" W. A. T " – World Art Trendency
7th -28th ,FEB
Nine Dragon Heads 2010 in Sarajevo
Nine Dragon Heads makes an attempt and stimulation to leave better heritage in the future from the environmental and spiritual viewpoint. Human beings have repeated evelopment with enormous domination and control about environment. There is no doubt that human beings are superior in every respect.
Thinking back to the past history, many species on the earth were exterminated because for some reason the friendly environment which helped their birth changed into hostile attitude.
While mankind, the first species that had the ability of operating on surroundings, have got out of innumerable change of nature to some degree.
But human has regarded the nature as the target of challenge and conquest, that is to say, as the subject of testing mankind's ability in the process of transforming and possessing the nature.
Ultimately if we are asked a question when the mankind will disappear, we may answer "the day will not be far distant." No matter how peculiar men may be, we must deeply realize that men are also the product of appropriate environment and the part of huge nature.
Can men lead a life with understanding and respect about the world of nature?
Can men maintain a life peacefully and fairly for the long survival of mankind?
What decide this future of human is the mutual relation between human and human, human and circumstances.
NINE DRAGON HEADS changes close-minded 'I' into open-minded 'I' and urges to reconsider equilibrium relation between human and environment through the art holding in common human's infinite imagination, experience, and ideas.
NINE DRAGON HEADS joins various cultures and unfolds international composite art.
We hope to have in common community consciousness and impulsion of the cooperation existed deeply in human's heart through these various forms.
Human beings who have single species of Homo Sapiens Sapiens have developed wide and diverse culture. We understand that the diverse difference of culture is the speciality of culture itself, not comparison or superiority.
NINE DRAGON HEADS expects to have a new understanding of human nature and world through the art as long as men. We anticipate that we can leave healthier environment-the heritage of future-to posterity through the curable function of art.
1. Nine Dragon Heads in Sarajevo - Contemporary Art Exhibition
Period: 7th~ 13th, FEB
Open : 7th. 15:00~
Venue :Turkish Culture Center www.turskikulturnicentar.ba / Sarajevo Open City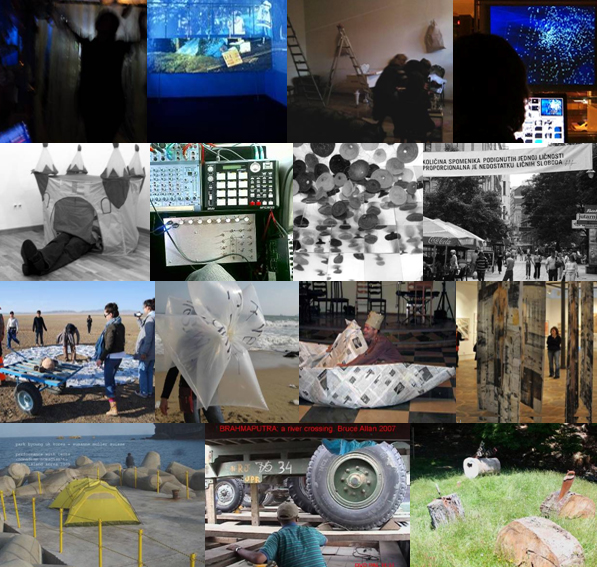 Participating Artist : 17 Artists from 16 Countries
Bruce Allan (UK). Channa Boon (Holland). Daniela de Magddalena (Swiss). Eugene Hansen (New Zealand). Ed Gfrerer (Austria). Gabriel Adams (USA). Gaia Berger (Agentina). Genco Gulan (Turkey). Gordana Andelic (Bosnia & Hercegovina). Ian & Oona (Ireland). Konstantin Gorestsky (Belarus). Mkrtich Tonoyan (Armenia). Manami N (Japan). Nandin-Erdene (Mongolia). Alena Boika (Czech ). Yoo Joung Hye (Korea). Liaison;SongHwa
Indoor Exhibi : Visual Art (installation,Objects,Video,Drawing etc) are most suitable this event.Artists responsible for bringing suitable work and setting up their own work also you can make an art work or installation directly in exhibition hall during period.
Outdoor Exhibi : Opened to anybody and can choose the working area freely in Sarajevo Open City
Details Schedules
FEB. 4th – 6th Arrival at Sarajevo ( Room Arrangement )
& Set-Up Exhibition
7th 15:00~ Opening of Nine Dragon Heads ( Turkish Culture Center )
7th 18:00~ Attaend on Grand Opening
9th~10th Nomadic Party
13th 18:00~ Closing Exhibition ( Turkish Culture Center )
Neo-Nomadic Party is one of the concepts of Nine Dragon Heads. Each Artist brings Wine, Liqueur, Cheese etc. that is a specialty from their country and we will have party
Materials & Tools : If you feel you need special materials for your concept,
Please discuss whether this will be acceptable before you begin set up your work.
Please bring your own materials& tools. Simple hardware can be purchased easily and cheaply.
2. Interactive performance : Gga-Chi Theater ( Korea )
Period : 7th, FEB. 17:00 ~ March along the Street / Grand Opeing Aria and Dom Mladih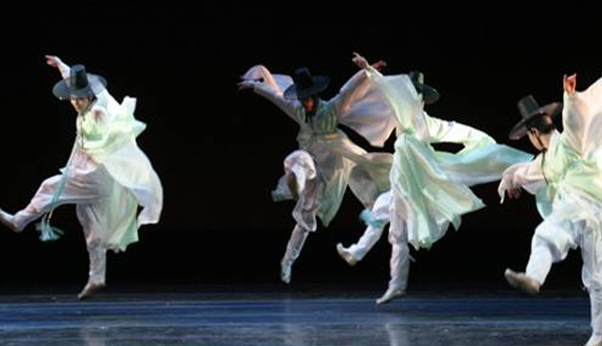 1st Part : Dongnae Hakchum
Some old people from the Tongnae Yangban class, danced like cranes in white gowns and black hats made of horsehair. (The white gowns and black hats symbolize the crane, while the dance highilights the actual movement of the crane).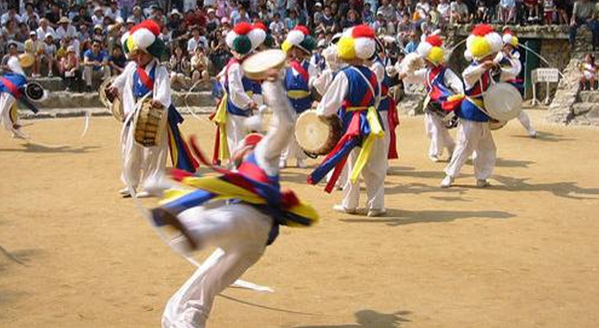 2nd Part
:
Samulnori
"Samul" literally means four traditional Korean Percussions, kkwaenggwari, (small gong), ching, (largegong), changgo(hourglass drum) and puk(drum). The "samulnori" is a modern adaptation of plays of the samul from farmers' music and dance. This is a very lively and vivid instrumental ensemble, in which each instrumentalist's specialities are fully displayed and a variety of rhythms, one of the musical characteristics of this music is excitingly presented.
Director
: Sim Mi-Ran
Co-Producer
:
Son Byoung Tae
.
Performer
Lee Seong Hoon.
Jung Jae Wook.
Park Seung Ho.
Lee Yoo Mee.
Organization
: Nine Dragon Heads
3. Interactive Performance : MAC Theater ( Korea )
Period : 8th, FEB. 18:00~ March Along the Street and Skenderija ( Dom Miladih )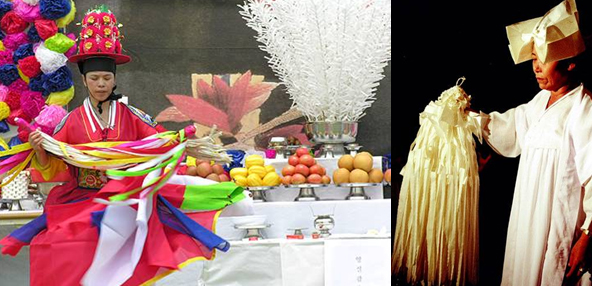 1st Part : Binari
- Drama based on traditional convention of Korea.
- Drama based on 'THE SHAMANS OF THE EASTERN SEABOARD (Geori-gut in the Donghaean Byolsin0gut), Mask dance of Korea (TONGNAE YARYU) and the doll drama.
- Original performance of traditional dance and songs and rhythm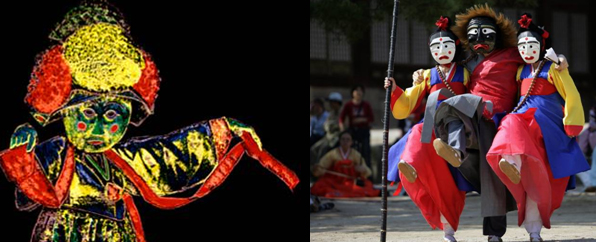 2nd Part : Dongnae Yayu
The play is performed on the 15th of January ( First full moon) and it consists of different mask plays called Mundungi Kwajang, Yangban Kwajang, Yeongno Kwajang, and Halmi Kwajang.
Introduce
The theatrical troupe "MAC theater" is the representative theatrical troupe of Busan,Korea which was initially founded in 1986 and is still active. Based on traditional convention style, it have been performing the artworks which has deep color or taste of regions to foster and activate the Korea's original drama and is the colorful theatrical troupe which had continuouslyly worked in order to breath together with audiences through the drama which had used various kind of folks tales, civilian's legendary literature, history, folk customs, manners and customs of shaman's world, etc. of different part of Korea. Making drama to suit the most with modern people by sublimating Koreans' exclusive traditional arts to theatrical fun is their foundation and presently, with their continuous activity, they provide the most active movement in Busan.
Executive Director
: Lee Joung Nam.
Art Director
: Kim Dong Seok
Choreographer
: Hong Soon-A
Music : Kim Jae Ok
Performer : Sim Mi Ran, Kwon Soo Joung, Han Ji Eun
Choi Woo Joung, Lee Yeon Joung, Kang Sook Ha
Lee Hye Young, Heo Joung Hyun, Choi Byeong Yun
Planning
: Kim Joung Hyun
Organization
: Nine Dragon Heads
4. Korean Ensenble : OULIM
Period : 8th, FEB. 20:00
Venue : Bosnian Instutute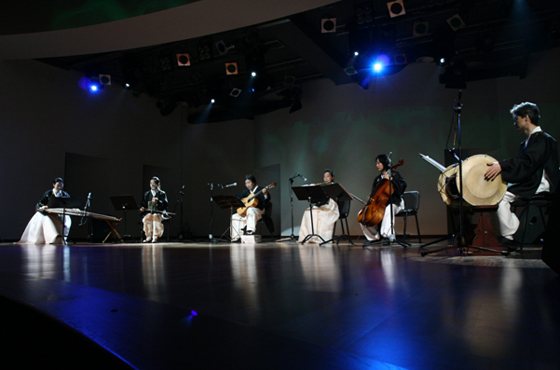 Introduce
Hailed for its "Oulim" Ensenble, captivating performances of supreme artistry, the OULIM, "a spectacular group with wonderful musicality at their flash of inspiration," Oulim has established 1986 its status as one of the most notable ensembles of today. Oulim is comprised of members who each contributes own singular warmth and impassioned sensibility to the collaborative force. The Oulim has appeared in concerts all across Far Est as well as around the world. Oulim were formed korean instrument and classically in violin, piano and cello as well.They blend their classical background with Jazz, pop and folk elements to create something new and refreshing.
Oulim
Guitar : Lee Byeong Wook
Hae-Geum : Kim Kyoung Mi
Piano : Lee Yu Jin
Violin : Park Chae Yeun
Cello : Oh Geum Sil
Sop. Lee Yeun Ja
Sop. Baek Eun Kyoung
Organization : Nine Dragon Heads
Program
Ludwig van Beethoven No5,op 70, No 1
Allegro vivace e con brio
Largo assai ed espressivo
Presto
Piano Trio for HWA ( Composer Lee Re Keun )
"Holistic" ( from the Bb..) for Piano ( Composer. Choi Hyun Surk )
J. Brahms Trio No.3 C major.op.87
Allegro
Adante
Allegro com moto
Fesitavl Sarajevo
Details Schedules
FEB. 4th Arrival at Sarajevo ( Room Arrangement ) & Set-Up Exhibition
7th 15:00~ Opening of Nine Dragon Heads ( Turkish Culture Center )
7th 17:00~ Perfromance by MAC Theater & Gga-Chi Theater ( Street & Grand Opening Area )
20:00
~ Performance by MAC Theater & Ggachi Theater ( Dom Mladih )
8th 20:00~ Concert by Oulim ( Bosinan Institute )
9th Departure Oulim
11th Departure ( MAC & Ggachi )