Hayden Prujean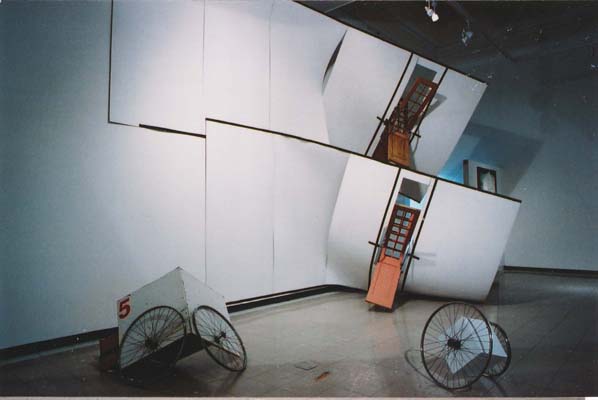 Work Proposal
This works I undertake in Korea will involve the subjective interpretation of city spaces using Situationist concepts of the drift and psycho geometry.
The work will comprise of the overlay of two explorations, one from the city of Dunedin, New Zealand, the other from Seoul, Korea. Using the idea of the drift, maps, drawings, imprints, photographs and street trash will be collected from random walks around the cities, the starting point being the galleries n o n e in Dunedin, New Zealand and Gallery Picci in Seoul, Korea. The traces collected from these drifts will be manipulated into differing subjective interpretations. I intend that they will act as fragments of memory, their original purpose and meanings subverted by the compositions as a whole. The relationships built and mined will be as transient and ephemeral as the original drifts themselves.
The city seen through systems of categorization and authority appears as a structure built on principles of order. But the reality of the everyday, the individual experience of perception is a much more temporal and ephemeral entity. This work takes traces of the city through a process of subjective observation, and creates with them an open system of manipulation and interpretation. It becomes a game of relationships, similarity and difference, an experiment involving two very different and isolated environments and allowing them to communicate through the mediums of art and artist.
Curriculum Vitae, Hayden Prujean.
Hayden Prujean is a practicing multimedia artist. He uses performance, sound art including experimental music, sculpture and installation in his works. He works in alternative ways, using spaces outside the institution of the gallery as essential to the meaning of his work. Currently he is part of ¡®The Ministry of Information¡¯ a collective in Dunedin (NZ) who administer a non-profit gallery and studio space called n o n e, which has become a strong focus for alternative art practices in Dunedin at the present time. Most recently Prujean has been working collaboratively almost entirely, either on collective projects or by exhibiting his more autonomous explorations alongside other artists, but also maintains an individual direction, voice and artistic enquiry in his practice.
His formal training has been as eclectic and varied as his approach to art practice in general, dipping into computer technologies among other things before eventually earning a BFA at the Otago Polytechnic school of Art in Dunedin in 2001. In recognition of his academic excellence he was awarded the David Con Hutton Memorial Scholarship in 2001.
Survey of Recent Exhibition and Performance Work
Nightfall, collaborative multimedia installation and performance, n o n e basement, Dunedin, 2003
Eden, collaborative multimedia installation and performance, Introspect Gallery, Dunedin, 2003
Residential Collective Show¡¯ None, Dunedin, 2003
The Ministry of Information, sound based performance, the Cellar Bar, Dunedin, 2003
iii part dis harmony, The Space, Wellington Fringe Festival, 2003
Co-Incidence, Site specific sculpture symposium, Farewell Spit, 2002-2003
House and Garden, CoCA, Christchurch, 2002
The Liz Franc Fracture, sound based performance, Dunedin Battle of the Bands, 2002
Everything Has Gone, sound based performance, the Arc, Dunedin, 2002
Everything Must Go, 24 hr performance event, Metro Underground, Dunedin Fringe Festival, 2002
LZFRAKTUR, the Crown, Dunedin, 2002
Soft City, Satellite Gallery, 2002
Emerging Artists, Blue Oyster Gallery, 2002
Gate, sited installation in burnt out train carriages, Dunedin, 2001
Threshold, on-site/off-site installation on abandoned steps in Dunedin City, 2001
Flood Dice, on-site/off-site installation in the Leith Stream, Dunedin, 2000-2001
Beach, sited installation, Sandfly Bay, Dunedin, 2000
Blue Line, on-site/off-site installation, Maitland St, Dunedin, 2000