Curriculum Vitae
PETER NICHOLLS
Sculptor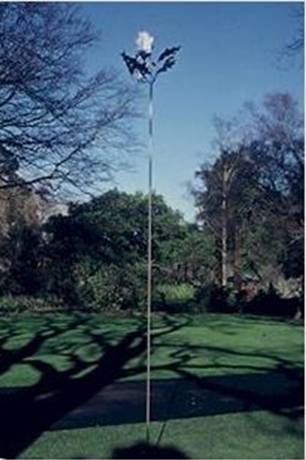 Qualifications:
MA Dip FA (Hons) Dip Tchg
Permanent Address
3A Jessie Street
Maia
DUNEDIN
Telephone (03) 471 0068
021 1845638
Email peternicholls@extra.co.nz
Education
1979 Graduated MA in Sculpture
1978 - 79 Graduate Assistant – University of Wisconsin, Superior, Wisconsin USA
1962 - 63 Elam School of Art, Auckland, New Zealand Graduated with Honours
1962 Epsom Teachers College, Auckland, New Zealand, Teachers Certificate 1963
1959 - 61 Canterbury School of Art, Christchurch, New Zealand
Teaching Positions Held
1979 - 2001 Lecturer in Sculpture, School of Art Otago Polytechnic
1977 - 78 Head Art Department, Takapuna Grammar
1969 - 76 Teacher in Charge of Art, Glenfield College
1966 - 68 Teacher in Charge of Art, Edgecumbe College, Bay of Plenty
1964 Art Teacher, Belmont Intermediate
Awards
1996 James Wallace Art Award Second Prize
1989 QE II Travel grant to Europe
1978 Travel Grant to Toronto, Canada
1975 Queens Elizabeth II Arts Council Award
1974 Hansells Sculpture 1st Prize Section B for Environmental Works
Professional Activities
2004 Milinthorpe Forest Golden Bay, Project mentor
2001 Co-Incidence project Golden Bay
1999 Dunedin Public Art Gallery - Artist Talk
1996 Workshop (Sculpture) 'Eduvision' National Education Conference, Dunedin
1996 External Assessor for University of Otago
Masters Programme Art History – Thesis, Environmental Art in UK, Europe, USA
1996 Organiser, Supervisor 4th year BFA Seminar and Visiting Speakers Programme
1995 Unitech, Auckland; Lecture
1994 Dunedin Photographic Society, lecture - Photography as a Tool for Sculpture
1994 Wanganui Community Polytechnic - lecture
1994 Sculpture Tour
Designed and Organised Tour of Dunedin Public Sculptures for
Outreach Committee Dunedin Public Art Gallery
1992 – 94 Head of Selection Committee selecting prospective incoming students for School of Art
1992 Curate School of Art site specific sculpture exhibition, Botanic Garden 52 works
Including Dunedin Botanic Garden Site Specific Sculptures by School of Art Students
1992 Sarjeant Gallery, Wanganui –Artist talk
1992 Fisher Art Gallery, Pakuranga, Artist talk
1991 Otago Society of Arts, Dunedin - Lecture
1990 Summer School / Wood Symposium
Wanganui Community Polytechnic
1990 Elam School of Art Auckland - Lecture
1990 Dunedin Rotary Club – Artist talk
1990 Friends of the Dunedin Public Art Gallery – Artist talk
1990 Dunedin Institute of Architects - Lecture
1990 Judge Dunedin Chapter, NZ Craft Council Otago Museum
1989 Participated in Sculpture Symposium, Sculpture in the Landscape, Manchester, England
1978 Participated in 10th International Sculpture Conference Toronto, Canada
1976 President of NZ Society of Sculptors and Painters
Participated in 1976 Biennial of Sydney (Slide Lecture) NSW Australia
1974 – 75 Vice President of NZ Society of Sculptors and Painters
Exhibitions Solo
2004 Ardor Gallery,Parnell Auckland 'SYNTHESIS' Tabletop new work
2002 Ward Str Gallery' SYNTHESIS' small works
2001 School of Art, Dunedin 'SYNTHESIS' Large floor works
1998 Milford Galleries, Dunedin 'SHIELDS FOR THE PROCESS'
1993 Aero Club Art Gallery, Port Chalmers 'CROSSINGS'
1992 Sarjeant Art Gallery, Wanganui 'CROSSINGS'
Manawatu Art Gallery, Palmerston North 'CROSSINGS'
Fisher Gallery, Pakuranga, Auckland 'CROSSINGS'
Centre for Contemporary Art Hamilton 'CROSSINGS'
1988 Gow Langsford Gallery, Auckland
1986 Southland Art Gallery & Museum (Selected Works 1966-86)
New Vision Art Gallery, Auckland
1984 Dunedin Public Art Gallery (Survey 1972-84)
1983 Red Metro Gallery – Dunedin
1981 Wellington City Art Gallery
1980 CSA Christchurch – Bosshard's Dunedin
1979 Superior, Wisconsin, USA
1978 Albert Park Survey Show Outdoor Works Auckland
Barrington Gallery, Auckland
Sarjeant Art Gallery, Wanganui
1977 Data Gallery, Auckland
1972 Osborne Gallery, Auckland
Exhibitions – Group
2004 Shape Shifter Lower Hutt. New Zealand Sculpture exhibition. 'Tulipifera'.
Milinthorpe Forest, Golden Bay. Environmental sculpture. 'Pioneer Flame'
2003 'Co-incidence' site-specific sculpture symposium Golden Bay, South Island ('Equivocal Values')
'Cruising the Pacific' 2 Dowling Street Gallery, Dunedin ('Surge') May
'Tutor' Cleverley, Webb, Scott, Ball, Nicholls, Gibson-Smith, Otley – Dowling Street Gallery (Synthesis Series) July
104th Jubilee, Dunedin Botanic Gardens, (Award) (Quercus Robur Insert #1) July
'Strange things may work' Bramwell, Cullen, Nicholls. Blue Oyster Gallery, Dunedin October
2002 'Changing Spaces' Wellington Festival, MŪSA, February
'Recent sculpture, Milford galleries, Dunedin
'Beecroft Garden Exhibition of NZ Sculpture 2002 Takapuna Auckland
Spiritual themes in Art 'Time and Eternity' St George's Presbyterian Church, Takapuna
2001 'southern Wave' University of Otago, Auckland Campus
2000 NZ Sculpture 2000, Beecroft Garden, Takapuna Auckland
1999 Te WA (The Space), Wanganui
Summer Show, Milford House, Dunedin
'Sculpture in the Garden' governors Bay, Christchurch1998 'SENSOR' Group, Lopdell House Gallery, Titirangi, Auckland
1997 Submission Proposal Centre Piece Sculpture, Formosa Country Club South Auckland
1996 Artis Gallery, Parnell Auckland – Sculpture '96
1994 'Back to Back' Lecturers Exhibition Carnegie Centre Gallery, Dunedin School of Art
1993 Guest Artist South Canterbury Art Society, Aigantighe Gallery, Timaru – Invited
1991 Maquette Submission, Auckland Maritime Museum
1990 Wood Symposium, Summer School, Wanganui
Lecturers' exhibition, School of Art, Otago Museum
Curated School of Art Sculpture Exhibition Botanic Garden
1989 Maquette submission, Manawatu Art Gallery, Palmerston North
Drawings by sculptors, CSA Gallery Christchurch
'Out of the Woods', Sarjeant Art Gallery, Wanganui
1986 Recent NZ Art Sculpture 1, ACAG, March 1986
'5' Ball, Hotere, Nicholls, Stevens, Sydney
Carnegie Centre, Dunedin, October
Maquette submission, Edminton Trust, Auckland
Maquette submission, Tutanekai Mall, Rotorua
1985 Tutor Show, Otago Polytechnic School of Art, Dunedin Public Art Gallery, September
1983 BNZ Selected Sculptor for Maquette submission
1982 NZ Drawing Invitation, Dunedin Public Art Gallery
CSA Christchurch 'Autobiographical'
NZSSPA –20th Anniversary, RKS and Auckland Public Art Gallery
Fl. Balaena Bay, Wellington, 'Full Stop'
Red Metro, Dunedin, Fl Drawings, Maquette
1980 Hansells
Dunedin Drawing Invitational
Dunedin Artists Christchurch
Aramoana Exhibition
Wellington City Art Gallery
Hocken Library, Dunedin
NZSSP Projects Conceived or Achieved Barry Lett, Auckland
1979 Sculpture Festival, Dunedin
Finalist Aotea Square Water Sculpture Competition
1978 NZ Sculptors at Mildura gallery Tour of NZ
(Sept) NZSSP CSA Gallery, Christchurch NZ
(April) Mildura Sculpture Triennial, Victoria, NSW
(March) Auckland Painters & Sculptors ACAG
(Feb – March) 5 Sculptors, New Manawatu Art Gallery, Palmerston North
Summer (Jan) Two environmental works with Diane Nicholls – Pakiri Beach North Auckland
1977 NZSSP Hastings Cultural Centre, Hawkes Bay, NZ
1975 NZSSP Barry Lett, Auckland
Mildura Victoria Arts Festival
12 NZ Artists Travelling Show, Australia
Te Awamutu Festival, NZ
1974 Mask Show, Mildura
Erotic Show, Barrington Gallery, Auckland
Invited Artist, Hansells Annual Exhibition
NZ Drawing, Auckland City Art Gallery
Hansells Selected Sculpture, National Art Gallery, Wellington
Letter Show Ewing Gallery, Melbourne University
Hansells Exhibition
Silent Auction, Govett Brewster, New Plymouth
1973 Sculpturescape 73 Mildura Triennial
NZSSP Osborne Gallery Art Award
Hansells Exhibition NZ Sculpture Masterton
1972 NZSSP 10th Anniversary Exhibition, Osborne Gallery
NZ Sculpture (invitational) Govett Brewster New Plymouth
1971 QE II Travelling show with NZSSP
1970 Barry Lett Gallery, Auckland
Fletcher Wood Sculpture , Auckland
1967 Whakatane Centennial Exhibition
1966 Eric Scholes Gallery, Rotorua
1963 Painters and Sculptors of Promise
Public Collections / Public Commissions*
2001 University of Otago, Commerce Building, Dunedin. Site Relocation, 'Elan'
1999 Custom House Quay Harbour Development, Dunedin. Site Relocation, 'Toroa'
1992 Manawatu Art Gallery, Palmerston North. 'Levels' Steel, Wood
1991 Sarjeant Art Gallery, Wanganui. 'Whanganui' Mixed Woods
1989* Dunedin Public Art Gallery. 'Toroa'
1988* Aurora, Central Park, Auckland. 'Mamaku' Australian Hardwood
1986* University of Otago. 'Bridge' Australian Hardwood
Robert McDougall Art Gallery Christchurch. 'Spinal Motivation' No 1, Sycamore / Paint
Auckland City Art Gallery 'Spine' Australian Hardwood
1985 Southland Art Gallery & Museum. 'New Land' No 2 1975, Totara
1984 Dunedin Public Hospital. 'Wisconsin No 1' 1978, White Cedar
* Dunedin Public Hospital 'Cross' 1984 NZ Southland Beech
Dowse Art Gallery. 'Wisconsin No 4' 1979, Oak/Maple
Dunedin Public Art Gallery
'Wisconsin No 5' 1979, Oak/Maple
'New Land No 6' 1976, Australian Hardwood/Metal
'Maquette' 1981, Australia Hardwood
Three Drawings
1982 NZ Consulate, Sydney. 100 Degree Twist
Ministry of Foreign Affairs, Wellington, 'Duality' Australian Hardwood 1965
1981* University of Auckland; 'Measure' 1979 Australian Hardwood
Wellington City Council Parks & Reserves. 'Full Stop' 1982 Steel/Rock/Wood
National Art Gallery Wellington, 'Lissom' (Three times three) 1981, Steel/Australian Hardwood
1980 Queen Elizabeth II Arts Council, 'Constrictions' 1980 Australian Hardwood/Steel
1979 University of Wisconsin Superior, 'Wisconsin No 2' 1978 Rocks/Maple
University of Wisconsin Superior, Working Drawings
University of Wisconsin River Falls, 'Wisconsin No 6' Artist-in-Residence
1978* City of Edmonton, Alberta Canada, 'Counter Poise' Douglas Fir/Steel
1975 Auckland City Art Gallery, 'New Land No 3' Totara/Steel & Drawings
1973 Govett Brewster Art Gallery New Plymouth, 'Untitled' Kanuka/Kauri
1972 Mildura Sculpture Centre, Victoria, Australia, 'Probe Series No 4' Kanuka
Private Commissions
2003 Navigate – Judy Robinson, Dunedin
2002 Tango Dance - Private Collection, Auckland
1997 Cross - Les Williams, Dunedin
1997 River Guardian – Martyn Evans, Keri Keri North Auckland
1996 Rakaia – Allan Gibbs, North Auckland
1989 Untitled – Chris and Margaret Doudney, Dunedin
1988/9 Luff – Private Collection, Auckland
1986/7 Strata – John Gellert, Auckland
1985 Bud Form – Spencer Nicholls (Cement Fondue)
1984 Elan – Les & Marie Williams, Dunedin (Macrocapa)
1963 Three Copper Figures – John Bolton's Menswear, Queen Street Auckland
Selected Bibliography
Bingham Russell The Commonwealth Sculpture Symposiums A Critical Assessment,
1978 Art Magazine, Canada Nov/Dec
Brown Gordon Aspects of recent New Zealand Sculpture, 1986-87 Art NZ Summer Vol 41
Brown Warwick 100 NZ Artists (Sculptors, Printmakers, Photographers) 1996
Campbell Katy Changing Spaces, 2002 Art NZ, Spring Vol 104
Cape Peter Please Touch, 1980 p52
Christensen Margaret In Their Element - NZ Sculptors at Hansells, 1980 NZ Listener May 24
Curnow Wystan Uneven Miscellany, 1986 NZ Listener May 10
Flying the Flag #1 Sculpture Project, 1983 NZ Listener April 30
Dunn Michael A History of NZ Sculpture, 2002
Egger Chris Photography 1983 Art NZ Vol 29 Summer p13
Eggleton David Weight, Memory, Presence, 2004 Art NZ No 111 Winter
Ellis Stephen Art Modernism Schmodernism, 1980 New Outlook May/June
Johnson Alexa Aspects of Recent Art Sculpture, 1986 Auckland City Art Gallery Catalogue
Hanly Pat & Gil Seven Artists Contribute to the Auckland School of Architecture, 1981
Art NZ Vol 25
Leach Peter Sculpture and the varieties of illusion, 1984 Art NZ
Art In Public – Peter Nicholls at the University of Otago, 1986 Art NZ Vol 39
The Politicising of Art, 1981 Art NZ Autumn
Lonie Bridie Peter Nicholls, 1984 Art NZ Vol 32
Milbank Bill Roots-routes, 1992, Crossings Catalogue
Pitts Priscilla Contemporary NZ Sculpture, 1992
New Sculpture in Auckland, 1986 Art NZ Winter
Raynor Paul Out of the Woods, 1990 Art NZ Winter Vol 55
Rowe Neil 21 Sculptors in Masterton, 1980 Art NZ Vol 16
Scott John Crossings, The Journey of an Indigenous Man, 1993 Summer Art NZ No 65
Strathdee Barbara F1 New Zealand Sculpture Project, Sculptors International 1983 Vol 2 No 2
Tarlton John Recent Sculpture Auckland, 1978 Art NZ Vol 8
Ward Raymond Salute to Energy, 1984 NZ Listener May 5
Wedde Ian Charged Gaps, Contented Ecologies: the citizenship of Peter Nicholls, 1992 Crossings Catalogue
NZ Sculptors at Mildura, Art Network 83/9 p69